CORONAVIRUS LOCAL INFORMATION
Multiple dates from Friday, March 13th to Friday, May 1st
Event Summary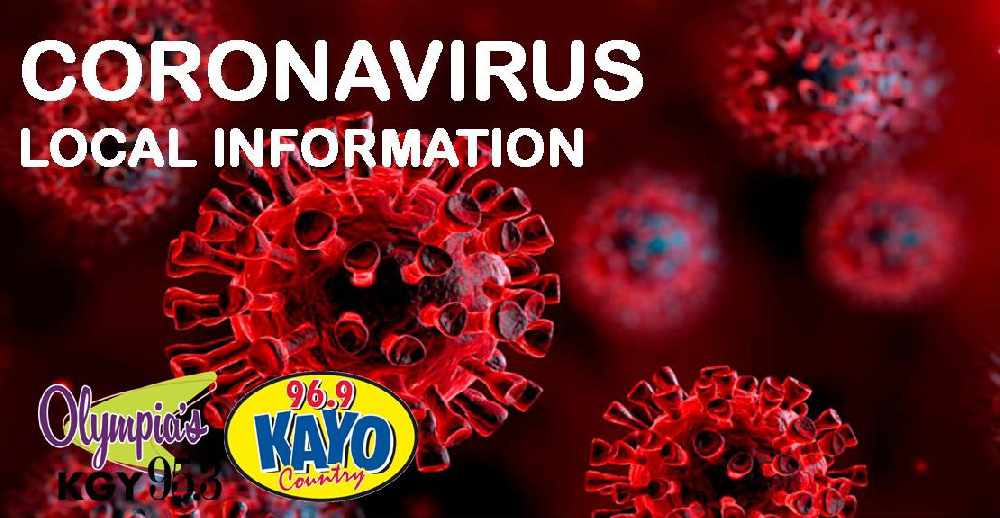 View current closures here.
CLOSURES
** To notify us of your specific event change, please email studio@kgyradio.com, or call our office at 360 943 1240 and leave a message **
CHILDCARE
YMCA and the Boys and Girls Clubs of Thurston County have childcare options in place, particularly to support first responders and health care workers as they care for our community.
BUSINESSES
Capital Mall - Closed through Mid-April
Cut Rate Autoparts - online / phone orders and curbside pickup
Lucky Eagle Casino - Closed until 4/1
Little Creek Casino - Closed
Emerald Queen Casino - Closed
Quinault Beach Resort & Casino + Sweetgrass Hotel - Closed
Washington State Spring Fair - Cancelled
The Washington Center for the Performing Arts - https://www.washingtoncenter.org/event-updates/
Whistle Workwear - online order and curbside pickup.
All restaurants and bars are closed to eat-in; Online people like Amazon, DoorDash, GrubHub and UberEats can help you. DoorDash for one will delivery Groceries from most local stores. All offer "no-contact" delivery. Uber Eats has suspended delivery fees for orders from local restaurants.
RESTAURANTS OFFERING CURBSIDE COLLECTION or NO CONTACT DELIVERY
Big Toms - Completely Closed.
Brewery City Pizza - open at 3 locations for delivery & takeout.
Dirty Dave's Lacey - Closed until 04 11 2020
Farrelli's Pizza - Order by phone or online - Curbside Delivery at store.
Papa Murphy's Pizza
Dominos
Outback Steakhouse
Jimmy Johns
Famous Dave's Tacoma
Lemon Grass Restaurant - Tumwater and Olympia locations only.
CLARUS EYE CENTER, LACEY
For the health and safety of our patients. We are asking people only with an appointment enter our facility. If you are 18 or older we ask any companions or guests to wait outside or in their vehicles. If you require assistance, we are allowing a maximum of 1 companion or guest per patient. We can call patients, guests, or companions when they're done with their appointment. If you do not have a cellphone please give us a detail of your vehicle and we will be happy to escort the patient back to you. Thank you in advance, Clarus Eye Centre Staff
WET SCIENCE
As of now, all of the WET Center events are canceled through April. We do not have an expected opening date and will follow what the local cities and county recommend. In the meantime, they are still trying to engage our community with science activities. there's a posting daily science activity called "9 am Science Time" on our Facebook https://www.facebook.com/wetsciencecenter/. The activities are usually pulled from other online resources and can be done at any time. Each week has a different theme. Next week will be "World of Wastewater." Each day will highlight a wastewater career as well as a home science activity to go along with the career. In particular, we want to highlight people should only flush toilet paper and what comes out of them. As a part of the Science Time, they're encouraging people to share the science they do in their homes. They'd love an email at info@wetsciencecenter.org!
SCHOOLS
All school districts are closed to on-site learning for this school year. Online learning will continue until summer in most school districts in the State.
CHURCHES
Evergreen Christian Community – online only
Capital Christian Center – online only
ACTIVITIES
Thurston County – All events with 250 + people cancelled.
Grays Harbor Mounted Posse Rodeo cancelled.
South Sound Baseball – All practices incl opening day until 4/4
All after school events, including sports.
South West Dance Academy classes cancelled.
INFRASTRUCTURE INFORMATION
Venue
KGY Radio
1700 Marine Dr.
Olympia

Dates
The event runs from 12:00am to 11:59pm on the following dates.
Select a date to add this event to your calendar app.