KGY 100 YEARS!
CLICK TO PLAY KGY 100 PART 1
CLICK TO PLAY KGY 100 PART 2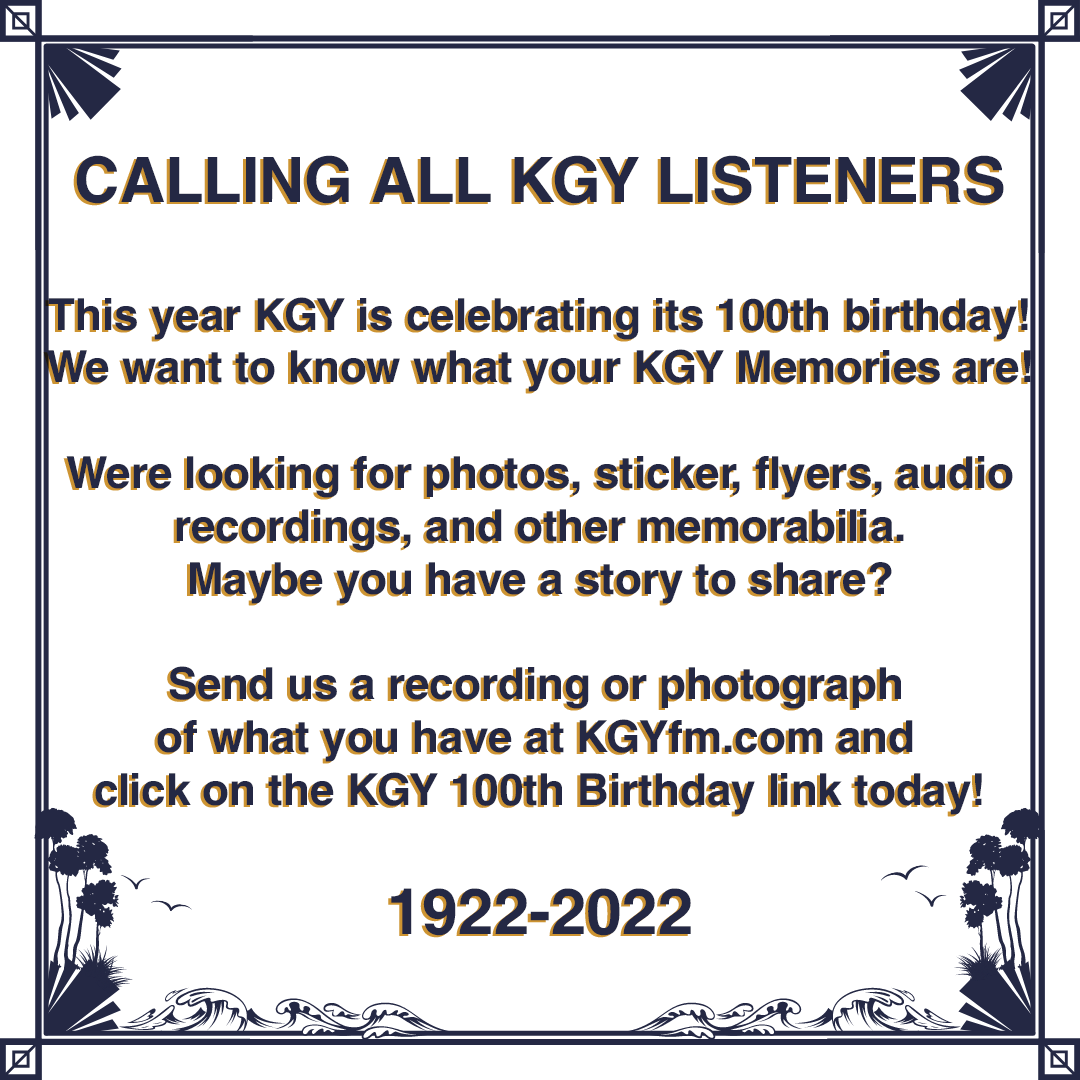 YOUR MEMORIES - THANK YOU!
Denise in Olympia
Growing up in Olympia and going to school meant listening to Dick Pust on a snowy day to find out if you're going to school. His iconic voice was our childhood. A couple years ago I was at dancing goats coffee and I heard this unique voice that was so familiar. I realized I was standing next to Dick Pust drinking coffee with his pals. Little did I know that I was good friends with his granddaughter.
Donna in Olympia
The military assigned my husband to Ft. Lewis in 1975. I began listening to KGY "every" morning to get the news and weather. I was a teacher in NTPS for 41 years and "every" morning I listened to KGY especially depending on the morning show for weather related school closures and information. Now that I'm retired I still listen to KGY at various times during the day while I'm doing chores or work-outs. I love the Oldies. Happy Birthday KGY!
Jim in Olympia
KGY was located in the Leland Rockway building, located on the southwest corner of State and Capitol Way (above Olympia Oil and Wood). It was the news hub of the community. Sam Crawford was one of the announcers who I recall. Sam and his wife, Lassie, lived on Capitol Boulevard, looking down on Deschutes Falls. At KGY, the Associated Press had a ticker tape, as you walked in from the hallway, located on your right. The News Room was on my left and the recording/performance studio was ahead, in the northeast corner of the building. I was in one of the school groups who sang Christmas carols there (around 1950).. City Hall was on the northwest corner of State and Capitol Way; The Daily Olympian was across the street on the Southeast corner. Newsmen, including the Capitol Press Corp would gather for coffee or something to eat, at the Spar. Sam Crawford seemed to have the second or third seat at the lunch counter with his back to the 4th Avenue entrance. All the current news was swapped there. My Dad worked for The Olympian's advertising department, so I got to tag along when school was not in session. My Mom thought Dick Pust was her personal friend (through the airways). She liked to participate in the contests sponsored by local businesses. Later, one of my first jobs with the State was located in the former offices of KGY. Gave me a surreal feeling to climb those stairs, turn right and enter the old studio converted to an office. But, for me, the announcers were still there, broadcasting the day's sports, local and national news; the teletype was still clattering away.
Bruce in Olympia
My Aunt Beverly was selected to be a contestant on the NBC TV show "Queen for a Day" on October 29th, 1957. The show was broadcast live on TV and simulcast on KGY. A tape recorder was set up (probably by my mom) to record the live KGY broadcast. To everybody's shock and amazement Bev ended up winning Queen for a Day. It was a big deal. The Youtube video "Queen for a Day Beverly Chamberlain" features an informative and entertaining introduction by Beverly's grandson and 12 minutes of audio from the show. KGY is credited in the introduction and there is an actual KGY station break during the show. This October marks the 65th anniversary of Bev winning the Queen for a Day show.
Gery In Olympia
I moved to Oly in 1967 to attend St.Martin's. I heard KGY on my radio, then stories about its origin from one of the monks. Then I met Dick Pust there and it all clicked. I had to leave Oly for a year; on return, I immediately dialed in KGY and its great news and music, and I knew I was back home. A stable part of Olympia, I respected KGY's constant effort to inform us of local news, to support local causes, to sponsor community activities, to be out an about in our community. Have always enjoyed their calling out local folks' birthdays, interviewed local adults and youth, and attended/promoted Lakefair. Loved that I could call in a traffic issue and they'd report it. Fundraising for them has been creative, and I have loved the "item's auction" each year. And ever since 1967 they've been my "channel #1" on the radios because of the great job and great music.