A LION ESCAPED FROM A CIRCUS AND PROWLED THE STREETS FOR HOURS
Matt Case - November 14th - 5:43am PST
In Italy, a seaside town experienced an unusual event when an eight-year-old lion escaped from a circus and wandered its streets. The incident, which lasted several hours, prompted local authorities to advise residents to stay indoors for more than five hours.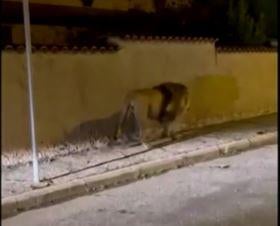 Videos published showed the lion walking through residential streets.REUTERS VIDEO
Despite concerns about public safety, the lion's handler stated that the animal, known to be amicable with people, posed no danger. The lion was eventually captured after being mildly sedated. Following the incident, veterinarians examined the lion and confirmed it was not injured during its brief adventure.