NEW DETAILS REVEALED ABOUT THE 'FRASIER' REBOOT ON PARAMOUNT PLUS
Matt Case - August 23rd
Los Angeles — The iconic psychiatrist is making his way back to television screens as the highly anticipated 'Frasier' reboot is poised for a fall debut on Paramount Plus. The series revival is set to usher audiences into a new chapter of the beloved character's life, as Frasier Crane returns to his roots in Boston. With both familiar and fresh faces in the mix, the reboot promises to be a captivating blend of nostalgia and novelty.
The forthcoming series will provide an intriguing narrative continuation, picking up with Frasier's life after his time in Seattle. Set against the picturesque backdrop of Boston, viewers can expect to witness the charming psychiatrist navigating new challenges while rekindling connections from his past. The show's creators are eager to explore the character's evolution in a new environment, presenting fans with an engaging storyline that pays homage to the original while carving out its unique path.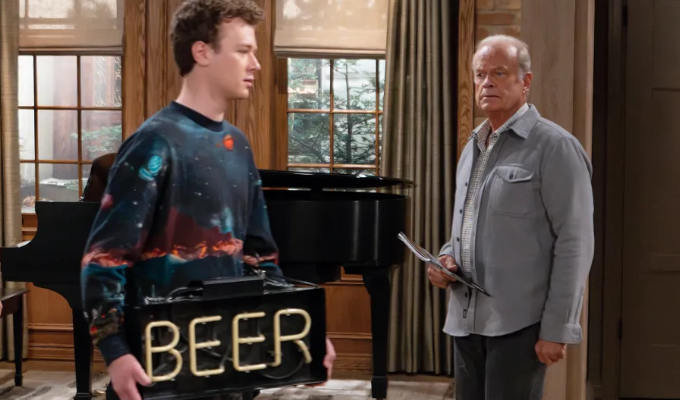 The first two episodes will drop on October 12 in the US and Canada,
Among the anticipated highlights are the introduction of two key characters — Frasier's adult son, Freddy, and nephew, David. This familial dynamic is poised to add layers of complexity to the show, offering fresh perspectives and injecting a dose of modernity into the storyline. With these additions, 'Frasier' aficionados can look forward to a revamped ensemble that enriches the already beloved cast of characters.
Nostalgia is set to take center stage as Bebe Neuwirth reprises her role as Lilith, Frasier's enigmatic ex-wife. Neuwirth's guest appearance is poised to ignite memories of the original series, intertwining the past with the present and weaving a seamless narrative thread for long-time fans.
Furthermore, the return of Peri Gilpin as radio producer Roz Doyle is a delightful surprise that promises to bridge the two eras. Gilpin's reprisal of her role will undoubtedly add a touch of familiarity, acting as a bridge between the original 'Frasier' and its revival.
Fans across the globe are counting down the days to the premiere, marking their calendars for October 12th when the first episode of the reboot will air exclusively on Paramount Plus. As the anticipation grows, it's time to dust off those classic 'Frasier' catchphrases and prepare for a heartfelt journey back to Boston with the indomitable Dr. Frasier Crane.