WE'RE OPEN - WHERE, WHAT, WHEN!
Multiple dates from Friday, March 13th, 2020 to Sunday, June 14th, 2020
Event Summary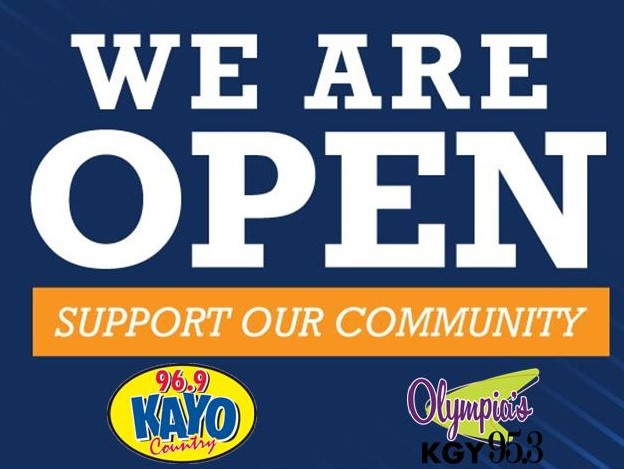 View the latest open businesses and more!


LOCAL PLACES OPEN
HOPS ON THE HILL, TUMWATER - Currently selling to-go food 1 day a week. Guests call on either Tuesday or Wednesday to order their food to be picked up on Friday. Next week we hope to have online ordering available. This week we are selling St. Louis Rib Boxes that come with Mac & Cheese, Baked Beans, and their choice of BBQ Sauce. We give them food cold with heating instructions. Everyone seems to really like this option and we have had multiple requests to keep selling cold to-go food when we open fully. Hops on the Hill also sell packaged beer and wine to those that have ordered food and offer growler fills to everyone. Web here.
KOZY'S IN & OUT - 3429 Schincke Rd Open 10a to 7pm mon-sat order in advance with curbside pickup or through Uber eats/ Grubhub. Web here.
State & Central - is now open daily Noon - 8pm with a growing menu. Order online: here
Restorante Mercato - Opening soon. Website here
Woodshed Furniture - Open for in-store shopping. A large showroom gives you a spacious shopping experience. You can also shop online or via video chat. Closed Sundays. Visit their website here
Spin Tees Prints - Open for printing, embroidery etc for businesses, teams, schools and other groups. Custom facemasks. Hours: 10a - 4p Monday - Friday. Website here
Cut Rate Auto Parts - All stores are open daily. Shop in-store, online or by phone. Pick-up in-store or curbside delivery. Stores open at 8am Monday - Saturday. Sunday hours: 10a - 4p Website here
J & I Power Equipment - Olympia and Yelm locations are open Monday - Friday 9am - 5pm, Saturday 9am - 3pm for sales, maintenance and repair. Website here
Yelm Farm & Pet - Open 8:30am - 6:30pm Monday - Friday, 8:30 - 5:30 Saturday & 9:00 - 4:00 Sunday. Curbside delivery available. Website here
McKinney's Appliance - 6723 Martin Way open Monday - Friday 9:00am - 6:00pm, 9:00 - 5:00 Saturday. Black Lake Blvd location open Monday - Saturday 10:00am - 4:00pm. Website here
THE PORT CANTINA - 2527 Marvin Rd in Hawkes Prarie Open at 9am-weekends and 10a on weekdays til 11pm See their menu on Facebook Order on-line or by phone and pick up in the lobby. Uses Uber Eat/Grubhub Also, has beer and mixed drinks to go! Web here.
THE SMOKEHOUSE BBQ -7210 Martin Way E Olympia 98516 Ppen Wed-Sat 11:30 am to 6 pm The menu changes daily. See their menu on Facebook. lobby/curbside pickup Uber/Grubhub. Web here.
LUCKY EAGLE CASINO - Set to open on 6/11. For details, click here
Venue
KGY Radio
1700 Marine Dr.
Olympia

Dates
The event runs from 12:00am to 11:59pm on the following dates.
Select a date to add this event to your calendar app.